Choosing hiking boots
Good footwear probably is your most important item of gear for mountain hiking. Good hiking boots should not only fit your feet, but also suit your needs.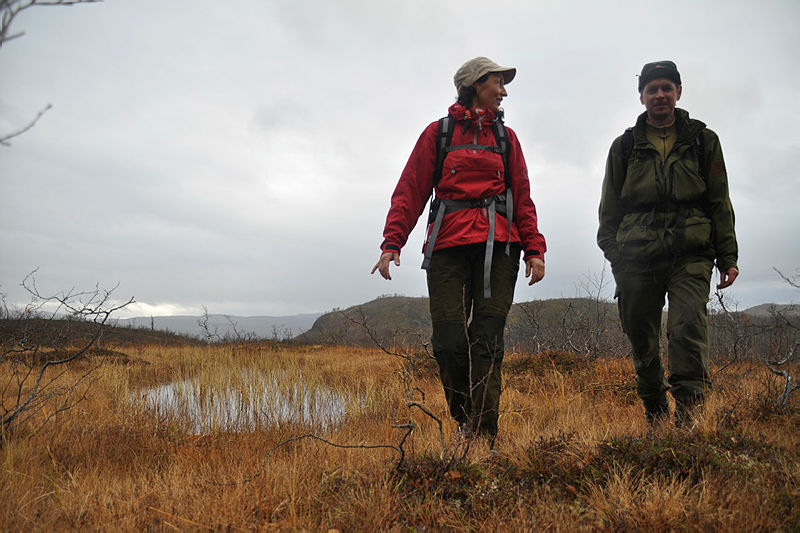 What sort of hikes will you take?
If you intend to go on shorter hikes of two to three days with a light pack or on day hikes on good trails in forests and lowlands, your boots need not be as robust as those you might choose for longer hikes with a heavier pack. Women can choose boots wearing about 1 kg a pair, depending on their foot size and body weight. Men should choose heavier boots, 1.2 kg or more a pair, unless they have strong feet.
If, however, you will hike in steep, rugged terrain, carry provisions and a sleeping bag or go on longer hikes, you should have heavier, stronger boots, 1,4 kg or more a pair.
Ankle support is vital
Terrain and weight alone don't determine the ideal strength of a boot. The strength of your feet, particularly your ankles, is decisive. The support requirements for carrying a 7 kg pack in easy terrain are considerably less than those for carrying 20 kg in talus and over greater elevation differences. Your boots should provide sufficient support to prevent sprain, particularly if your ankles sprain easily. Consider that new boots are considerably stiffer than when they are broken inn and properly polished. Hiking boots should reach above the ankle to provide the support needed, but some hikers prefer even higher boots.
Remember that as a rule, lighter boots almost always wear more rapidly than heavier boots. Moreover, the uppers of lighter boots often are made of various pieces of cloth and leather sewn together, and seams wear rapidly. Ankle support also diminishes with use, which shortens the use life of lighter boots.
Not all boots are made for hiking
Not all boots are suitable for hiking. Some walking boots have neither a decent toe counter or heel counter and are so soft that they give little ankle support. Avoid models that don't go above the ankle bone. They can quickly be uncomfortable and provide little real ankle support.
Leather or synthetic?
In days gone by, almost all hiking boots were made of leather. Quality leather that is well maintained keeps moisture out yet lets sweat evaporate outward. For most hikers, leather boots make sense. Boots with a waterproof, moisture-transport layer (such as GORE-TEX®) between the lining and the outer material or leather are slightly more clammy on warm days and are more expensive than boots without the layer. Moreover, consider:
Boots with much cloth and many seams are less water resistant.
The uppers of lighter leather boots usually are thinner than those of heavier boots and consequently keep water out not as long. To keep your feet dry for an entire day of hiking, it's best that the boot uppers have a waterproof, moisture-transport layer between the inner lining and the outer material.
If you intend to hike mostly in extremely wet terrain, rubber boots may be a good choice, if your ankles are sufficiently strong.
Buying new hiking boots
Most important, boots should fit your feet. Low price or light weight are insignificant if boots chafe and blister your feet. If boots don't fit your feet, don't let price influence your choice. No saving is worth a hike ruined. Here are a few hints for buying new hiking boots:
Try before you buy: Only you can tell whether a pair of boots fits your feet. The boots should feel stable around your insteps. They should provide support and prevent the upward heel movement that chafes and blisters. The inside length should be long enough so you don't jam your toes into the boot toes on downhills. A good test of length is that when your foot is slid forward in an unlaced boot until your toes touch the boot toe, you should just be able to fit your first finger down between your heel and the heel counter of the boot. Always try on boots late in the day, after your feet have expanded slightly. Select pair size to fit your largest foot.
Evaluate price: Price can be an indication of boot quality. Remember that light hiking boots not necessarily are less expensive than traditional boots.
Break in boots: With use, leather boots will partly reshape to fit your feet. So, you should break in a pair of leather boots at home, before wearing them on a hike. Synthetic boots need not be broken in before being worn on a hike, but on the other hand, must be carefully selected to fit your feet properly.